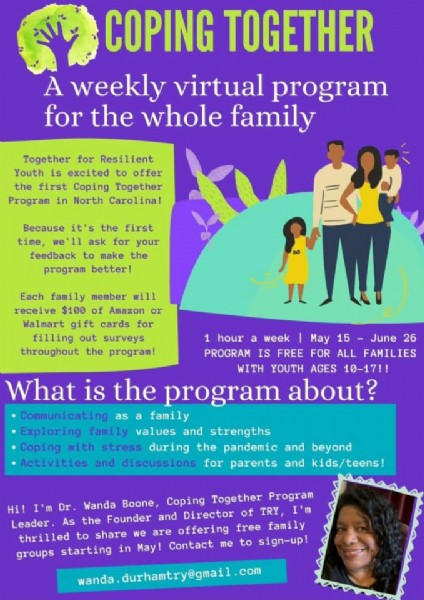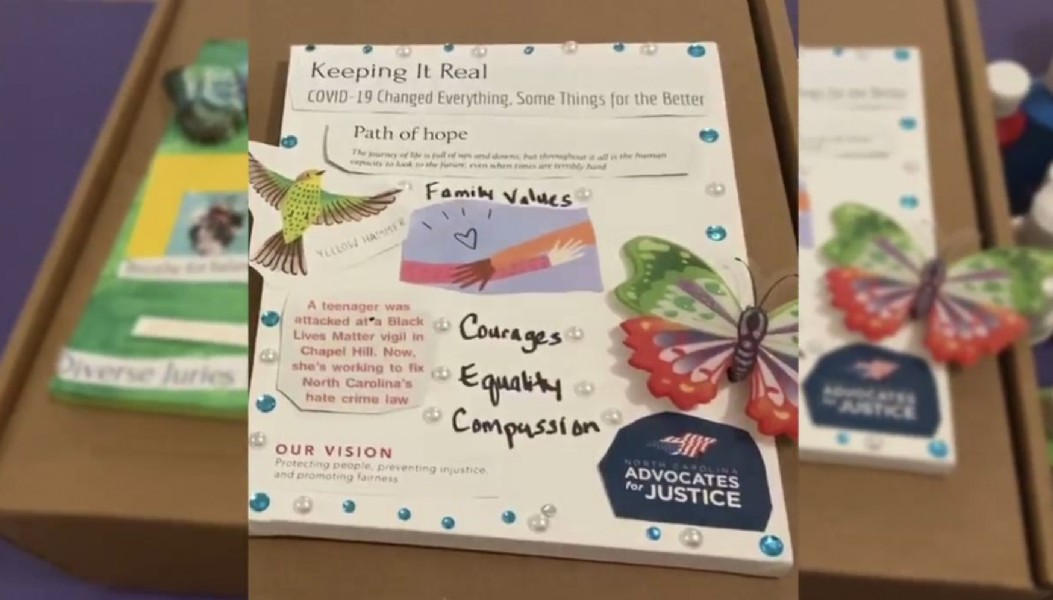 A Family Support Model Developed in Kenya Comes to North Carolina
The program, designed for places with low access to mental health care, could help address the overwhelming demand for family coping strategies during the pandemic.
Published May 12, 2021 under Research News
Written by Michael Penn
Eve Puffer, center, meets with residents in Kenya, where she has helped design new models of family therapy to address gaps in formal mental health services.
For more than a decade, Eve Puffer has traveled to western Kenya to train church and community leaders to support neighbors who are struggling with family and relationship issues, a key part of her work to address yawning gaps in the availability of mental health care in sub-Saharan Africa.
But even as she made those trips, Puffer, an assistant professor of psychology, neuroscience and global health, imagined that the models might have some value in places like the United States. After all, even wealthy countries struggle to provide timely and equitable access to mental health services.
As it turns out, COVID-19 provided both the need and the opportunity for Puffer to bring her work closer to home.
A few months into the pandemic, with her work in Kenya stalled by travel restrictions, Puffer received an email from Wendy Prudhomme-O'Meara, DGHI's associate director for research. "DGHI was interested in taking what faculty were learning in low- and middle-income countries and seeing what could be beneficial locally during the pandemic," says Puffer. "Our work, which is designed to be very community-based and delivered with few resources, seemed like a good candidate."
With funding from DGHI and Duke's Bass Connections program, Puffer teamed with Rae Jean Proeschold-Bell, a global health professor who has strong partnerships in the local community, to create Coping Together, a peer-led therapy model aimed at helping families who are running on empty after more than a year of pandemic disruptions. Working with groups such as Durham's Together for Resilient Youth and West End Community Foundation, the team has trained facilitators chosen from the community to lead an eight-week program for families to address stress, strengthen coping techniques and improve family communication. They hope to enroll up to 50 families from Durham and surrounding communities in the sessions, which started in May.
"COVID has put such a strain on families, and disparities in mental health care became even more prominent," says Puffer. "We are seeing this as a way to help families reboot — to help them work together to get back to normal, maybe even a better new normal."
From Kenya to Durham
Coping Together is built on the same core principles as Puffer's work in Kenya, where only about 100 trained psychiatrists serve a population of 44 million people. Recognizing that very few Kenyans can access traditional family therapy, Puffer's team drew on research showing that community members can be trained to provide therapeutic support. Working with Kenyan collaborators, her team has developed tools to teach community leaders how to counsel families struggling with conflict, violence and other relationship issues.
Although the U.S. has comparatively more mental health resources, the pandemic has exacerbated disparities in access to care, particularly among Black, Latino and rural populations. "Peer or lay provider models are a proven way to address the overwhelming demand for family support services, especially during this ongoing global crisis," says Amber Rieder, a postdoctoral researcher on Puffer's team.