T.R.Y. 2 QUIT! TOBACCO here Alternative to Suspension, Prevention, Intervention
ARTICLE SOCIAL JUSTICE, RACISM, PREVENTION - A MUST READ
AFRICAN AMERICAN HEALTH IMPROVEMENT PROJECT

The Goal of the African American Health Improvement Initiative is to support health and wellness
in communities of color through education, advocacy and action.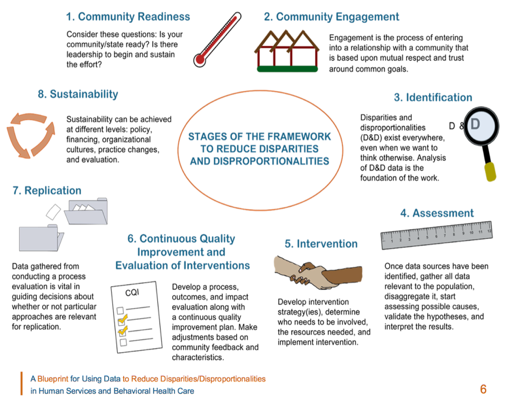 Grassroots Blueprint to Dismantle Disparities BELOW
RACISM IS A PUBLIC HEALTH CRISIS
-
THE IMPACT OF RACISM ON BLACK CHILDREN
HERE
Carbon Monoxide Poisoning - Prevention and Safety - here
Provide free health screenings for all residents

Immediate placement of carbon dioxide detectors in all units

Relocation of affected residents

Provide and review residents healthy home and rights checklists in understandable format

Use resources - National safe and healthy housing coalition
https://nchh.org/build-the-movement/nshhc/
Coordinate linkages to NCDHHS Low Income Emergency Services and NCCares360
https://www.ncdhhs.gov/assistance/low-income-services
Document and post Resident Rights

Verify required linkages between NC Human Relations and Durham Human Relations
NORTH CAROLINA HUMAN RELATIONS COMMISSION
1318 Mail Service Center Raleigh, NC 27699-1318 (919) 789-5930 866-324-7474
Social factors can affect health directly and indirectly as their effects accumulate across individuals' lifetimes and across generations, leading to vicious cycles between social factors and health. Although genes and medical care also are important, social factors probably play a greater role than either, and interact with both. Fortunately, many social factors can be influenced by policies and programs.
SOCIAL FACTORS:
Adverse Childhood Experiences
Early Life Experience

Early childhood experiences can have powerful influences on an individual's health, not just in childhood but throughout life. Children born premature and underweight are more likely to face health problems than their peers, which can later lead to other factors which negatively impact health.

Education

Education has profound health effects. More education makes an individual more aware of healthy and unhealthy choices and makes it easier to make healthy choices.

Income

For centuries, poverty has been linked to ill health. It is not difficult to understand why the poor would have worse health than people with greater economic means. We now know that even middle-class people generally have poorer health than the most affluent.

Work

Work can influence health in many ways, including through links both with health care insurance and with physically hazardous exposures in the workplace.

Housing

Poor-quality housing poses a risk of exposure to many conditions that can contribute to poor health, such as indoor allergens that can lead to and exacerbate asthma, injuries, and exposure to lead and other toxic substances.

Community

Characteristics of communities can influence health in many direct and indirect ways. For example, neighborhoods can be physically hazardous because of air and chemical pollution, traffic, lack of sidewalks and safe places to exercise, and because of crime.

Race and Ethnicity

Racial and ethnic background has profound effects on an individual health primarily because of the different social and economic experiences advantages and disadvantages that go along with race and ethnicity.

The Economy

The general economic environment can affect health by affecting levels of unemployment, wages and benefits, barriers to educational attainment, and availability of social and health services.
DIABETES
Please take the opportunity to view the Diabetes Coalition Videos. Just click on the titles below.